A return to your childhood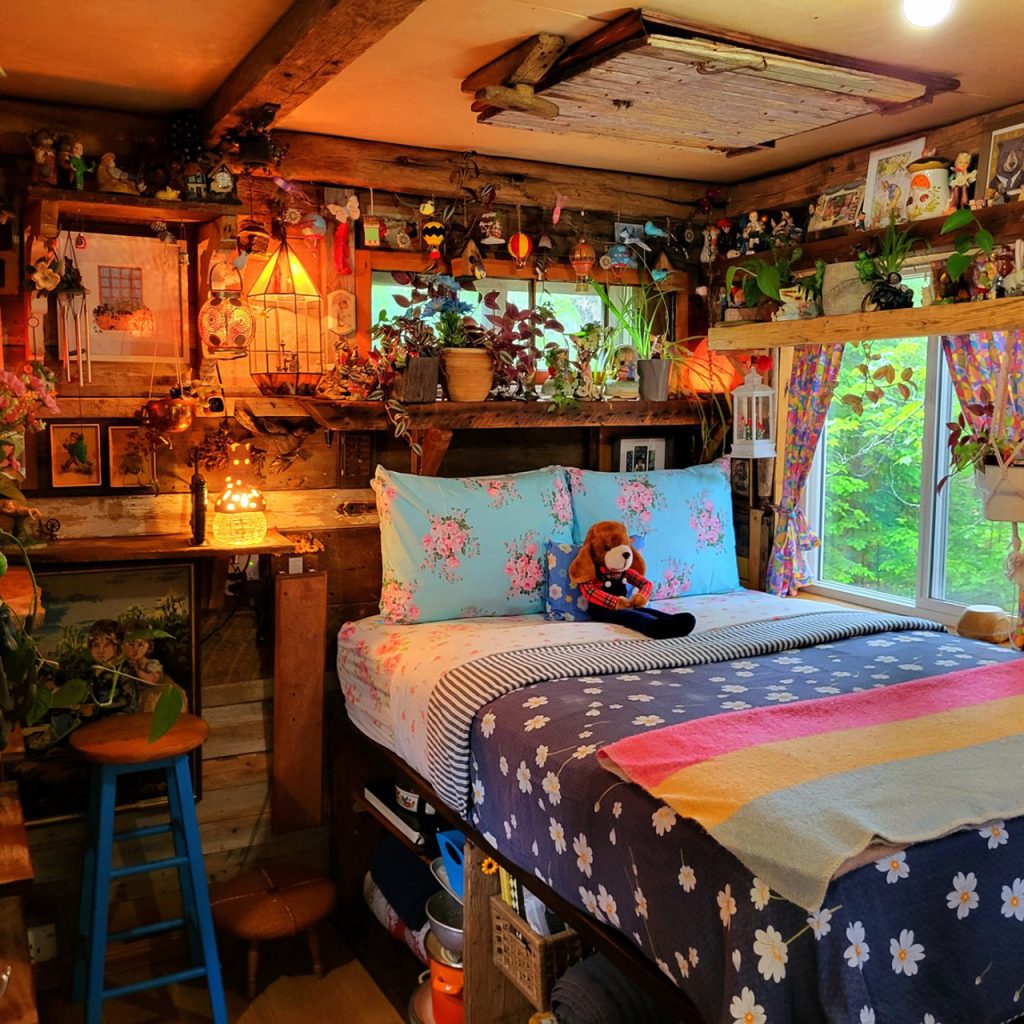 Spaces
Kitchen, Deck/Patio, Dining Area
The 12'x12′ tiny home Fairy Tale Cabin reflects on the fanciful figures we dreamed of when we were children. Rustic in nature with a comfy kitsch feel, nestled within a grove of tree coverage with outdoor living space as well. Inside décor consists of reclaimed boards, beams & driftwood. There is a full double bed, and private bathroom with a small standup shower. The kitchen has a confection burner/microwave, toaster oven & mini fridge. Burrowed at the top of Polly Hill, and neighboring The Miracles on Polly – Enchanted River Retreat cottage, both share the 4 acre property.
Where your imagination shoots up like like fairy tale mushrooms, spend to time to take it all in and discover the characters that speak to you… this space is ideal for single travelers, bikers, hikers, romancers and Lancers. Or perhaps a parent child getaway or a simple retreat to the magical forests of Belfast. A down to earth getaway with all the amenities you need to be comfortable. The gardens and outdoor area is constantly evolving as we move in to our fifth season, especially as we continue our restoration efforts following recent weather event impacts.
For calendar booking availability, please check out Airbnb – Fairy Tale Cabin or Vrbo – Fairy Tale Cabin
Please Note: This is a 12′ x 12′ cabin (240 Square feet). It has all your amenities to stay and relax during your visit, however we recommend this cabin to travelers who are comfortable in a smaller space 🙂
Please Note: We provide WIFI access in the Fairy Tale Cabin. However, currently there is no tv, cable or streaming services provided, so bringing your own devices as needed or wanted is recommended.
Guest Access
WIFI
Air Conditioning
Heat
Parking
Patio
Patio Furniture
BBQ
Small footpath
Amenities Close By
Coopers Red and White Convenience – 3 minute drive – This place carries most of the basics – gas, liquor, groceries, deli with local meats, produce, baked goods etc.
Belfast Corn Maze/ Pappy's BBQ Joint – Great local restaurant/farmers market/children's fun park – 3 minute drive (seasonally operated)
Country Taste Kitchen & Bakery – Serving breakfast and lunch, specializing in hot drinks, café menu with baked goods & pastries (open all year round, limited hours in off season)
Belfast Highland Greens Golf Course – 5 minute drive
Lord Selkirk Outdoor Pool & Mini Putt – 5 minute drive
Beaches within 5-10 minute drive
Belfast Mini Mills – Amazing local business with a great store front for gifts or keepsakes
Trans Canada Highway Access – 3 minute drive
Point Prim Lighthouse & Point Prim Chowder House – the oldest lighthouse on PEI, located next to a seasonal seafood restaurant
Kro in the Sky Art Gallery (seasonally operated)
Wood Islands Ferry Terminal (seasonally operated) – 20 minute drive
Miracles on Polly has three rental cabins on the four acre property: Fairy Tale Cabin, Enchanted River Retreat, and Memory Lane Cabin. All units are private but within the vicinity of each other. All are unique in their own way and share a fairy tale styled theme: we ask that all guests respect each other and the shared space.
We can be as available or as unavailable as desired. We also provide a visitors/diners/entertainment guide on site! Alexander has worked in hospitality all his life: we care about people and want the best for them genuinely. If there is anything we can do to help your stay and over all vacation in any capacity please let us know.
Other Things to Note
In the winter months all guests must park at the top of the lane-way and walk down: it is a short but a reasonably steep walk. There is always at least enough space for 3 cars at the top of the laneway. If you are uncomfortable walking down a decline in the winter months than this may not be the best place for you. In saying that we have snow removal services for our laneway, we salt and sand the walking path, and we truly hope you do chose to come rest at Polly Hill during the winter season. If there are any questions or concerns in this regard, please don't hesitate to contact us.
Please note: our PEI Tourism Establishment License Number is #2301149
Hope to see you on Polly Hill!!
Very cute and cozy.
We loved the cabin, very cute and cozy. We had a fire and it was lovely, thank you for having us.